Möte med ren vid foten av Siŋŋičohkka.
Photo: Åsa Redin/Länsstyrelsen

Liddubákti i bakgrunden.
Photo: Åsa Redin/Länsstyrelsen

På leden mellan Kebnekaise fjällstation och Singi. Fjället Duolbagorni i förgrunden.
Photo: Jan-Erik Nilsson/Länsstyrelsen

Photo: Michael Jönsson/Johnér

Duolbagorni med höstfärgade omgivningar.
Photo: Dag Haugum/Johnér
Singi-Kebnekaise Mountain Station
Hiking
Description
At the Singi Cabins you leave the wide Tjäktjavagge (Čeakčavággi) Valley and follow the trail towards the dramatic Láddjuvággi. At the same time you leave the King's Trail, which continues southwards towards Vakkotavare and on to Hemavan. After a gentle climb across lime-rich ground with abundant flora you reach Lake Lássajávri. The trail then leads to a pass. Here the hike changes character completely and the setting becomes highly dramatic. The valley becomes increasingly narrow and is enclosed on both sides by steep mountain walls. On the north side you have the thousand-metre wall of Siŋŋičohkka and on the south Liddubákti and Skárttaoaivi and their almost equally steep cliffs. The valley gradually opens up and the characteristic mountain Duolbagorni with the crater-like hollow is seen to the north. On Duolbagorni there is a classic climbing route called Siluetten, which is the longest such route in Sweden. North of Duolbagorni, Kebnekaise's summits can be seen.
From where the landscape opens up the trail offers easy walking and crosses fantastic plains. The contrast between the smooth trail surface and the surrounding rock walls is striking. You feel small. Early in the season it is often wet in the Siellajohka area, where the stream divides into several arms. Here you also pass a section of willow brush. After the bridge across Kittelbäck and as far as the mountain station, the trail is steep and in places crosses scree.
The stage is generally easy to hike and the climb is modest. There are many good tent pitches in the valley.
Duration: 5–7 hours
Activities And Facilities
Hiking
Surface

Mostly easily-hiked with small elevation differences. Between the Kittelbäck Bridge and Kebnekaise Mountain Station the ground is somewhat stonier
Contact
Email address
Länsstyrelsen Norrbotten
Organization logotype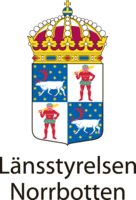 Questions & Answers
Ask a question to other Naturkartan users or to the responsible manager.