Unna Allakas-Alesjaure
Hiking
Description
The trail is well signposted with painted rocks and there are a large number of plankways along the route. The hike starts with a climb up the slopes of Stuor Allagas mountain. The tour then continues across flat terrain until the lakes at Bajip Snárapjávri. After an easy wade between the lakes, a climb begins to the pass at roughly 1,200 metres, which lies between the summits Tjålmeåive and Gárddečohkka. Here you have a vast panorama over Alisvággi Valley and the turquoise Lake Alisjávri. After the pass follows the sporadically steep descent towards the Alesjaure cabins. The trail passes lime-rich pastures with tall-herb vegetation. Just before the cabin site, the trail joins the King's Trail.
There are tent pitches around lake Bajip Snárapjávri. It is also possible to pitch a tent in the pass below Gárddečohkka, but the site can be windy.
Duration: 4-6 hours
Activities And Facilities
Hiking
Surface

Easily hiked surface. Mostly moorland and plankways, with short stretches of rocky terrain. Near the Unna Allakas cabin grow quantities of willow
Contact
Email address
Länsstyrelsen Norrbotten
Organization logotype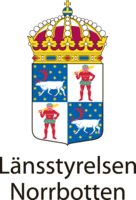 Questions & Answers
Ask a question to other Naturkartan users or to the responsible manager.